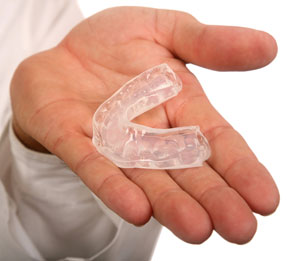 Mouthguards are commonly made for younger people to protect their natural teeth from physical shocks during ie. sporting activities and have an 95% success rate. They can also be used for people who have had expensive crown, bridge work, veneers, implant born crown and bridge work to protect from excessive grinding during sleep time. They can also in turn, be used to protect natural teeth from excessive grinding during day or night.
Mouthguards are constructed from 5 mm clear polyvinyl sheets, which when soaked in hot water are accurately and closely adapted to a stone model. These dental appliances are constructed to measurements taken of your natural teeth in closure, so as to ensure the correct size and support for your teeth, jaw bones and joints. Mouthguards are made from impressions taken in the morning and the prosthetic is fitted next day checking the size and the bite.
We provide clinical fitting and construction of mouth guards and night appliances that are carried out to the exact oral measurements. Colour patterns of your choice are available.
This service is registered for rebates.