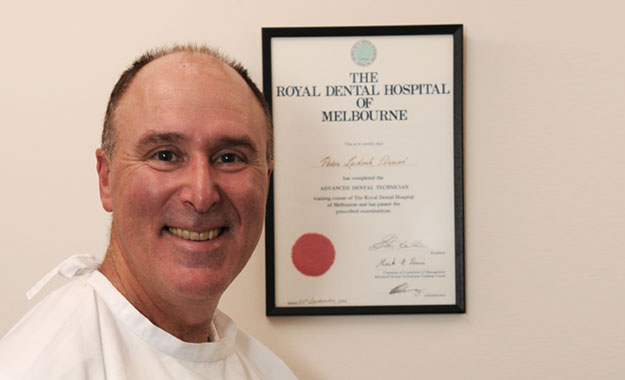 About Us
Complete Natural Smiles is a denture service provided by Peter Pirnat, experienced Dental Prosthetist who shares a great deal of passion and enthusiasm for his work. Peter has over 25 years of experience in the construction of cosmetic dental appliances and can guarantee a quality, professional service with best level of care.
Peter has graduated from the Royal Melbourne Dental Hospital in 1986, providing well fitted and natural looking dentures to the public ever since. The business itself was first established by Peter's late father in 1963, and together they have been servicing public with the exceptional quality work for over 5 decades.
The materials used in our clinic and dental laboratory are of a high quality, ensuring the clinical accuracy and durability. We choose the german made denture teeth material which is renowned for its exceptional quality, colour and shape. It is also being processed in the pink base, which is known for its high impact strength and durability.
Peter also have 35 years of experience in the construction of cosmetic dental restorations, for which he was awarded a Crown and Bridge award in 1980. Ceramic crowns, bridges, veneers and single crowns fitted to implants, german 3D ceramic powders are used to create life like and naturally sculptured restorations of the prepared cavities that need to be restored.